DACA vs DREAM: What are their differences?
DACA vs. DREAM: What are the differences, what is the purpose of each, are they the same? We tell you some important points about these two laws.
What is the DREAM Act?
The Development, Relief, and Education for Alien Minors (DREAM) Act is a proposed piece of legislation that would provide a path to citizenship for certain undocumented immigrants who were brought to the United States as children. The DREAM Act was first introduced in 2001, but it has failed to pass in Congress on multiple occasions.
Supporters of the DREAM Act argue that it is unfair to punish children for the actions of their parents. They also argue that providing a path to citizenship for DREAMers would be good for the economy, as these young people would be more likely to pursue higher education or join the workforce.
Opponents of the DREAM Act argue that it is unfair give special treatment to certain immigrants when others face the same challenges. They also argue that it would be difficult to verify the ages of DREAMers, which could open up a pathway for age falsification and other forms of fraud.
What is DACA Act?
The Deferred Action for Childhood Arrivals (DACA) program was created as a stopgap solution to protect DREAMers from deportation while Congress continued to debate the future of immigration reform. Under DACA, immigrants between the ages of 15 and 30 who arrived in the U.S. before their 16th birthday were allowed to apply for renewable two-year work permits and exemptions from deportation called "deferred action."
In June 2012, President Obama signed an executive order expanding DACA to cover immigrants up to age 31 if they entered the U.S. before turning 16 and had lived there since 2010, among other provisions intended to prevent fraud.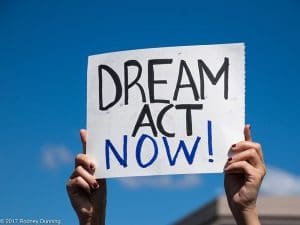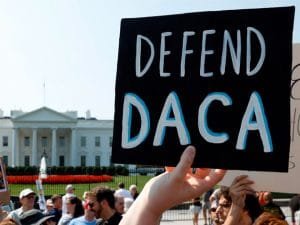 The DREAM Act and DACA share the same goal: provide a path to citizenship for certain undocumented immigrants. However, they differ in their approach.
The DREAM Act is federal legislation that was first introduced to Congress in 2001 and has been reintroduced several times but has never passed. Although it has gained bipartisan support over time , it faced strong opposition from conservative Republicans during the Obama presidency . In its current form, the DREAM Act would provide a way for DREAMers to earn conditional permanent resident status by meeting certain requirements such as having no criminal record, attending college or serving in the military. They could then apply for lawful permanent residence (a green card) if they meet more requirements, including maintaining a clean criminal record, graduating from college or serving two years in the military.
DACA, on the other hand, is an executive order issued by President Obama that protects certain young immigrants from deportation. Under DACA , qualifying youth are eligible for deferred action (a promise that they won't be deported) and can apply for work permits. This means that DACA does not provide a path to citizenship, meaning DREAMers could still be deported after their work permit expires . It also doesn't require recipients to attend college or join the military.
The DREAM Act, which has been introduced in various forms since 2001 , is a bipartisan bill that would provide a path to citizenship for the nearly 2 million immigrants currently protected under DACA.
Introduced by Sen. Dick Durbin (D-Ill.) and Lindsey Graham (R-S.C.), the latest version of the bill was presented as stand-alone legislation on July 20 . The new version of the DREAM Act includes some changes from past versions, including dropping some requirements such as being enrolled in college or having served in the military, while adding more background check requirements and regulations on who can qualify for conditional permanent resident status.
In order to pass, any new version of the DREAM Act will have to muster 60 votes in the Senate, which would require both Democratic and Republican support . Thus far, no congressional Republicans have announced their support for the bill; however, a number of House and Senate lawmakers expressed interest in finding a legislative solution to protect DREAMers soon after President Trump announced his decision .