Temporary Work Visa: What is it and how does it work?
You may have heard of temporary work visa, but what are they? Temporary work visas are a visa that allows citizens from another country to temporarily enter the United States or other countries in order to do short-term or long-term work. These visas allow people to travel freely between countries and states without any restrictions. There are many types of temporary work visas available for different situations, so let's take a look at what each one entails!
What is a temporary or short-stay visa?
A short-term visa is what most people think of when they hear temporary work visas. A short-term visa allows someone to come into the United States for a certain amount of time, usually less than one year . Short term visas are typically used by employees who need to come over temporarily in order to do business with their company , such as investors and consultants. However, if you don't have any ties or affiliations with an American company but still want to earn money from your job while traveling abroad, there's no shame in applying! There are many companies that hire foreign workers overseas and send them back home once the contract expires.
Long-stay visas
Long-term visas allow visitors entry into another country or state indefinitely until it runs out. In order to get a long-term visa, you have to be sponsored by an American company or individual.
How to apply for a temporary work visa?
In most cases, the employer will apply for your work visa on your behalf once they've agreed upon a contract with you and offered compensation . You'll then receive what is known as a letter of intent from the United States government that confirms this agreement between both parties. Once you have your letter of intent in hand , it's time to head over to consular processing! This requires filling out some paperwork (which costs around $160 per applicant), validating all necessary forms and documents, submitting them electronically along with passport photos, scheduling an interview appointment at the nearest U.S. consulate office. This process usually takes about two months from the date of application.
In most cases, you won't need to travel all the way to a consulate office in order to process your visa because you can do it entirely online! However, visas will not be issued by e-mail or fax even if they're processed electronically . Once your work visa is approved and ready for use , simply print out what's called an I-797 form (notice of action) along with several copies which should then be presented upon entry into the United States. This document outlines how long your temporary work visa is valid for as well as what states and territories are included within that time period. You'll also receive what's known as a 'travel letter' entering another country so customs officials know what to expect when you go through customs! You can typically apply for a long-term visa up to six months before your intended departure date .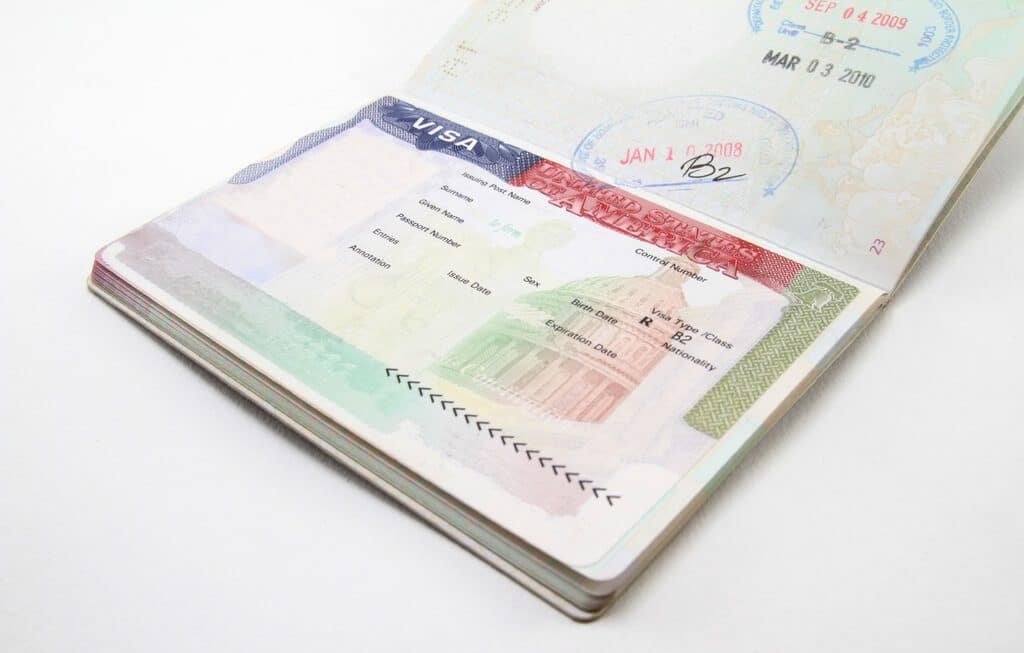 Temporary Visa for artists: Visa O
Long-term visas are usually only used by business employees and investors, but what if you're an artist or musician? How does that work? This is where the O (or P) visa comes in. The O visa allows artists, performers and people with extraordinary abilities from abroad entry into the U.S., provided they have been invited by an American employer who has obtained sponsorship on their behalf . Applicants must also prove that they've received acclaim based on at least one of these three qualifications:
International recognition o Membership within a group recognized as outstanding in its field
Original contributions of major significance to the field
Visas are generally processed faster than other work visas and expire after one year, but can be renewed for an additional three years.
If you're planning on coming over temporarily to do some volunteer work , what's known as a B-visa should suffice . The application process typically takes up about six months which is much longer than any other type of temporary work visa out there ! Applicants must prove that they'll only stay within the United States for less than 12 months while also having ties overseas such as property ownership or family members who will take care of them during their time here . You cannot receive payment from anyone based within the U.S. for what you're doing, but your family members can help support you financially upon entry .
The application fee for what's known as a D-visa is $325 and must be paid to the Department of State. If you're applying for what's called an L visa, then the processing time may take up to five months . As such, make sure your prospective employer has gone through all proper channels before submitting any necessary documentation as there are no refunds if your temporary work visa gets rejected ! For what's known as an H-visa , prepare to fork over about $500 in fees! There will also be additional costs associated with obtaining medical examinations and vaccinations depending on where you live . Fees for other types of visas like what we've mentioned above (O and B) will vary greatly and depend upon what country you live in as well as what consulate office is processing your application.
Temporary work visa requirements: what do I need?
The first thing that temporary work visa applicants will need to provide are personal documents such as a birth certificate, passport and photos . If you're applying for an L-visa then the employer must submit necessary documentation like tax statements and government licenses within around three months of filing out the initial DOL form (labor condition Application). For what's known as an H-visa , make sure all medical exams have been conducted by one of two authorized physicians who can also determine whether or not vaccinations against certain diseases are necessary prior to entry into the U.S.